This is an old revision of the document!
---
2G Socket Checkpoints
With a 2G ECU, when removing the EPROM it's entirely possible to damage a track on the top of the board and still allow the engine to run, but cause a number of malfunctions.
If the engine runs, it indicates that the connections between the processor (IC1) and the ERPOM are okay.
Details
Check for continuity of the tracks to the EPROM as follows (note that there is a 100 ohm series resistor between EPROM pin 22 and IC2 pin 44):
| EPROM | IC2 | IC1 | Notes |
| --- | --- | --- | --- |
| 01 | 25 | 63 | |
| 02 | 28 | 60 | |
| 03 | 34 | 55 | |
| 04 | 35 | 54 | |
| 05 | 36 | 53 | |
| 06 | 37 | 52 | |
| 07 | 38 | 51 | |
| 08 | 39 | 50 | |
| 09 | 40 | 49 | |
| 10 | 41 | 48 | |
| 11 | 45 | 11 | |
| 12 | 46 | 12 | |
| 13 | 47 | 13 | |
| 14 | | | GND |
| 15 | 48 | 14 | |
| 16 | 49 | 15 | |
| 17 | 50 | 16 | |
| 18 | 51 | 17 | |
| 19 | 52 | 18 | |
| 20 | | | GND |
| 21 | 30 | 58 | |
| 22 | 44 | | 100 ohms |
| 23 | 29 | 59 | |
| 24 | 31 | 57 | |
| 25 | 32 | 56 | |
| 26 | 27 | 61 | |
| 27 | 26 | 62 | |
| 28 | | | +5V |
Pin numbers for IC1 and IC2 are printed on the PC board. The EPROM pins are numbered as follows: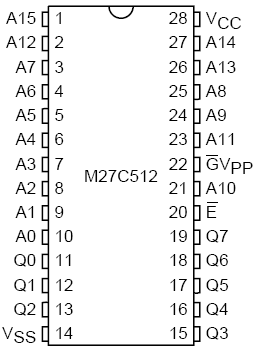 buzzingout2gsocket.1201177532.txt.gz · Last modified: 2008/01/24 07:25 by twdorris