Table of Contents
Pasta
ScottH - Baked Ziti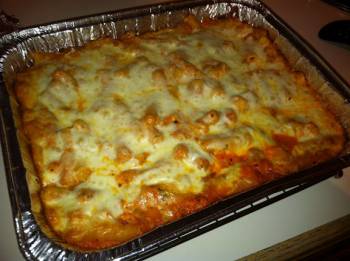 Ingredients:
1 box ziti shells

4 cups Sargento Chefstyle Shredded Mozzarella Cheese

1 3/4 cups Sargento Whole Milk Ricotta Cheese

3 cups Prego Italian Sausage & Garlic Sauce

1 Egg

1/4 cup grated Parmesan cheese

4 tablespoons diced oregano
Directions
Boil up your ziti shells and pre-heat oven at around 375*

Get a big bowl. Put in the bowl 2 cups of Mozzarella Cheese & 1 3/4 cups of Ricotta.

Scramble 1 egg and add to the big bowl

Strain your ziti shells and add them to your big bowl of Mozz,Ricotta and Egg. Pour your 3 cups of tomato sauce evenly over top of your shells (don't mix yet).. Put a towel over top of the bowl and let the hot shells sit in the bowl for about 5min before mixing all together.

Once mixed up sufficiently, pour into a oven pan. Then you take your additional 2 cups of mozz and spread it evenly across the top. Also add your grated Parmesan and diced oregano at this time.

Then over the top with a sheet of aluminum foil and let it bake for about 20-25 minutes. Then remove the aluminum foil and let it bake for another 5-8 minutes to give it a baked golden crisp top.
User Contribs
recipes_bakedziti.txt · Last modified: 2012/02/09 10:02 by twdorris