snowborder714 - Bacon wrapped meatloaf
Ingredients:
1 cup whole milk

6 slices white bread

2 lbs ground beef

1 cup (heaping) grated Parmesan cheese

1/4 teaspoon seasoned salt (I didn't use this)

3/4 teaspoon salt

Fresh ground black pepper to taste

1/3 cup minced parsley

4 whole eggs, beaten

10 slices bacon (or use as much as you'd like!)
Sauce: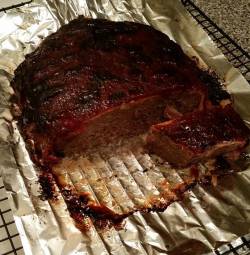 Directions:
Preheat oven to 350°.

If using milk and bread, pour milk over bread slices and let soak for several minutes.

Place ground beef, milk-soaked bread (or bread crumbs), Parmesan cheese, both salts, pepper, and parsley in a large mixing bowl.

Pour in beaten eggs.

With clean hands, mix the ingredients until well combined.

Form the mixture into loaf shape on a broiler pan, which will allow the fat to drain. Line the bottom of the pan with foil to make clean up easier. I put the meatloaf on a wire rack above a foil-lined cookie sheet which worked well (didn't have a broiler pan).

Lay bacon slices over the top, tucking them underneath the meatloaf. I overlapped my slices by 25-50%.

Make the sauce (mix all ingredients listed above together) and pour 1/3 of the mixture over the top of the bacon. Spread evenly over the whole meatloaf.

Bake for 45 minutes, then pour another 1/3 of the sauce over the top.

Bake for another 15 minutes. Slice and serve with the remaining sauce.
recipes_meatloaf.txt · Last modified: 2014/08/25 16:41 by snowborder714